Thai Cashew Nut Chicken is an addictive combination of spicy and sweet stir fry chicken with roasted cashew nuts. This easy 30-minute dish packs a punch with lemongrass, ginger, garlic, red chilies, and onion.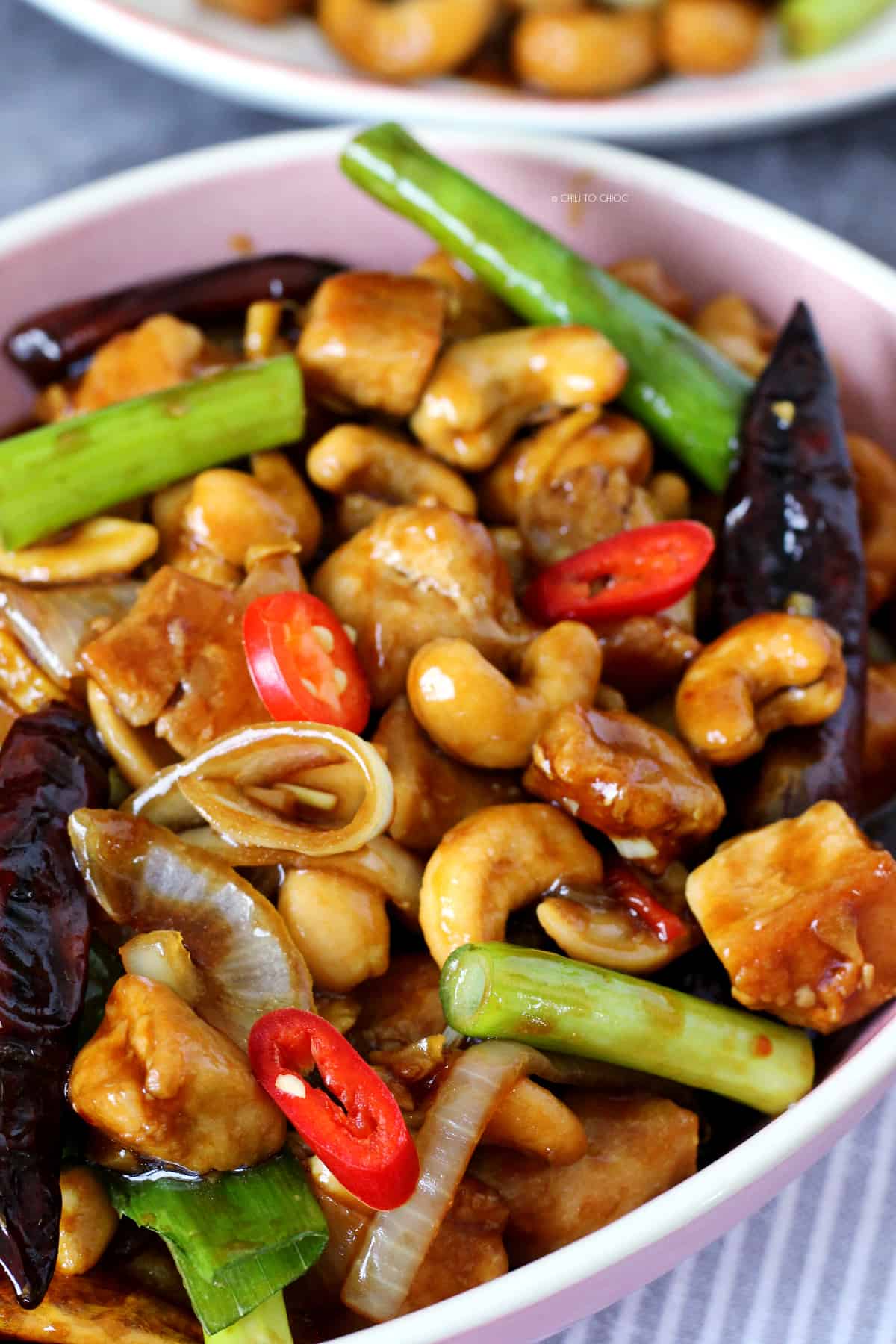 Ingredients
500 g boneless chicken cut in 3cm cubes
½ teaspoon salt
1 tablespoon regular soy sauce
3 tablespoon cornflour (cornstarch)
3 garlic cloves minced
1 tablespoon ginger sliced
1 stalk lemongrass white part chopped *see notes
1 fresh red chili sliced
4-5 dried red chilies
2 spring onion white part sliced and green part cut in 1 cm lengths
1 yellow onion cut in thick slices
3 tablespoon vegetable oil
¾ cup roasted cashew nuts unsalted
SAUCE
3 tablespoon brown sugar
1 ½ tablespoon oyster sauce
2 teaspoon dark soy sauce
1 tablespoon fish sauce
1 tablespoon white vinegar
1 cup chicken stock *see notes
1 tablespoon cornflour (cornstarch)
Instructions
Stir all the sauce ingredients together and set aside.
Add the salt, soy sauce and cornflour (cornstarch) to the chicken. Mix and let sit for 10-15 minutes.
Heat oil in a pan and on high heat fry the chicken till it is cooked and golden. Remove on a plate and keep aside.
In the remaining oil on medium high heat, saute the ginger and garlic for 1 minute.
Then throw in the dried red chili, sliced fresh red chili, lemongrass, slices of onion and white part of spring onion. Stir fry for 3-4 minutes.
Mix in the fried chicken and pour the sauce. On low heat let the sauce thicken and bubble.
Turn off heat and toss in the cashew nuts and green part of spring onion.
Garnish with some extra sliced red chili and serve with rice.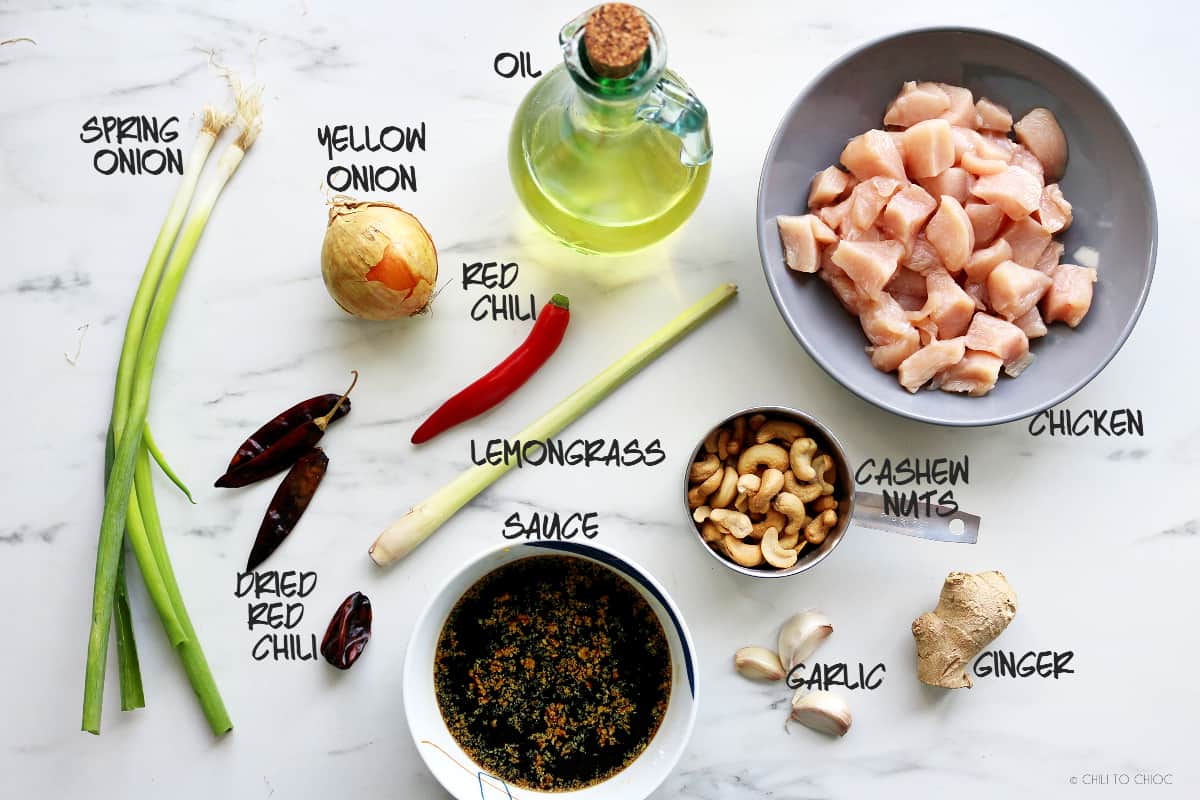 Chicken – I have used boneless and skinless chicken breasts cut in 3cm cubes. You can also use thighs. And shrimp would substitute quite well in this recipe too.
Cashew Nuts – Make sure you use unsalted. They can be roasted and if not you can yourself toast them in a pan.
Ginger and Garlic – Fresh ginger and garlic gives a lovely taste to this dish.
Chili – I add 4-5 dried red chilies and one fresh red chili. If you can handle spice use fresh Thai Bird's Eye Chili otherwise use a large Cayenne or Serrano Pepper.
Onion – Both spring onion and yellow onion are used in this dish.
Lemongrass – It imparts a delightful minty and citrusy flavour. Substitute with lemon zest if lemongrass is not available in your region.
Sauce – This sauce is a combination of chicken stock, fish sauce, dark soy sauce, oyster sauce, white vinegar and brown sugar.
Oil – Any neutral oil will do.
Instructions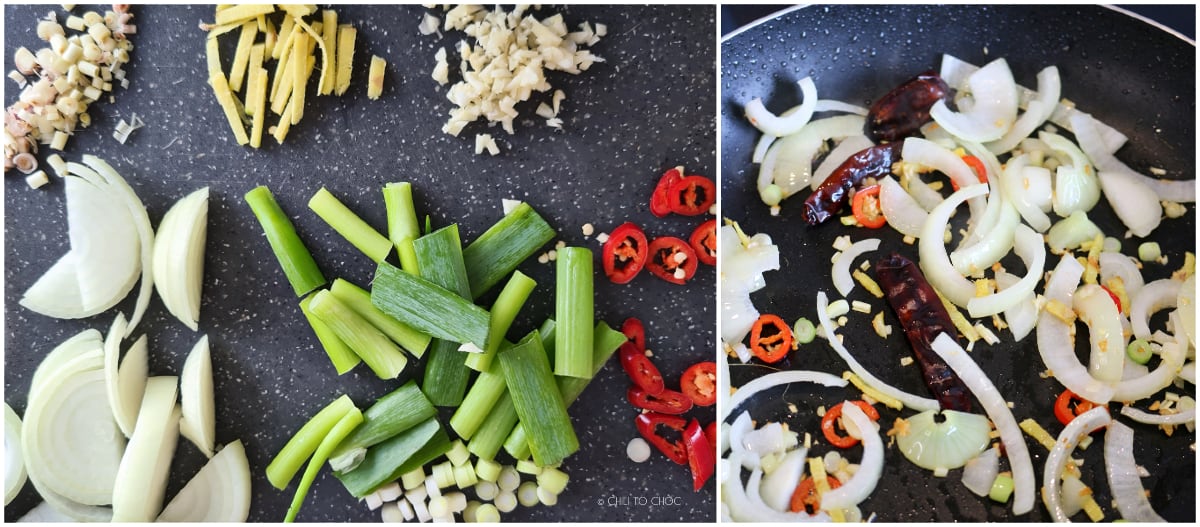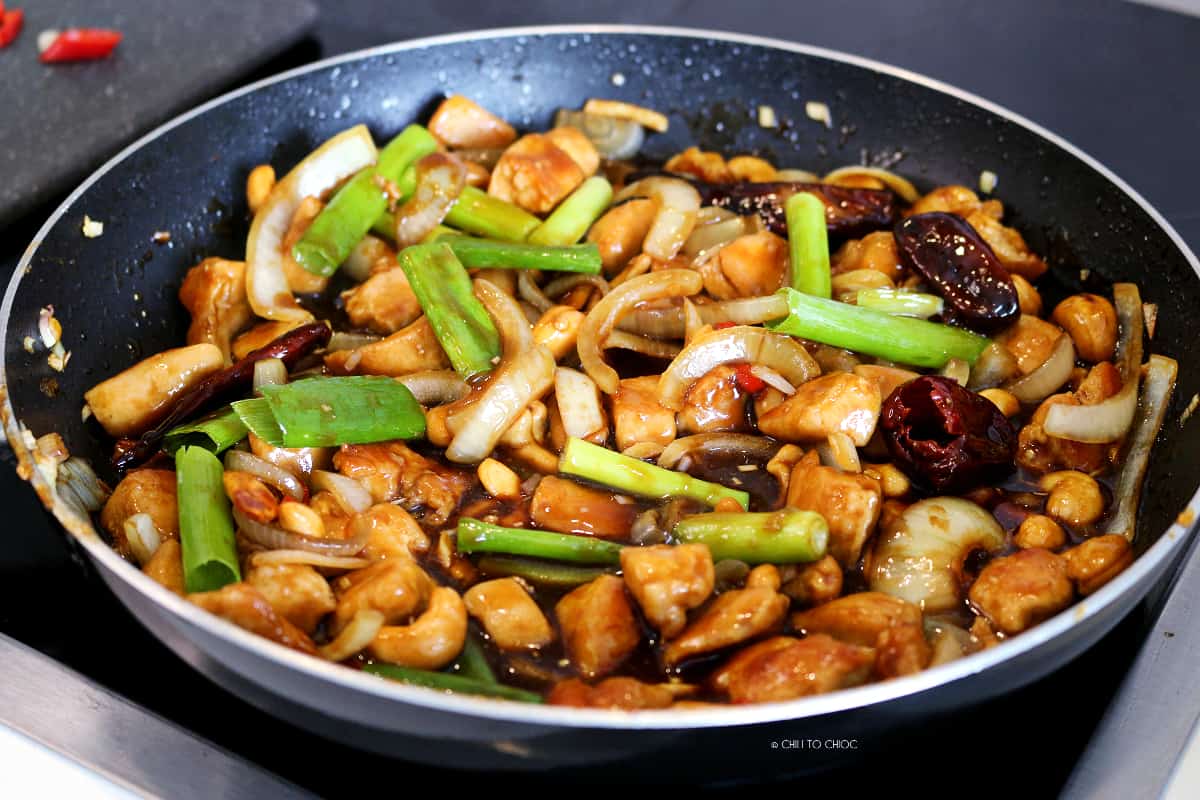 Marinate the chicken. Mix in soy sauce, salt and cornflour (cornstarch) in the chicken.
Prep the ingredients. In stir frying it is very important that everything is prepped in advance as it all happens very fast. Cut the veggies, whisk the sauce and have everything by your side.
Fry the chicken. On high heat, pan-fry the chicken and remove when it is cooked and golden.
Cook the aromatics. In the same pan, add the aromatics and saute till they release their aroma
Combine everything. Add the fried chicken and sauce to the pan. Let the sauce bubble on low heat and then turn off heat.
Garnish. Toss in the spring onion and cashew nuts. Garnish with sliced red chili and serve.
Note
You can substitute lemongrass with ½ teaspoon lemon zest.
Mix 1 chicken stock cube in 1 cup warm water if ready-made chicken stock not available.
Increase the amount of chicken stock to 1 ½ or 2 cups if you prefer more sauce.