A fragrant and spicy Thai red curry with chicken. This is a quick, easy, 30-minute dish made in one pot. Chicken and red bell pepper is added to a creamy sauce made with red curry paste and coconut milk. Super easy and flavourful
Main Ingredients of Thai Red Chicken Curry
Chicken: Of course, there no Thai Red 'Chicken' Curry without chicken. But feel free to replace it with shrimps, fish or even tofu.
Coconut Milk: Use canned coconut milk which is richer than the milk cartons. Shake it well before use. 
Red Curry Paste: I used a vegetarian Thai red curry paste. It didn't have any shrimp or fish flavouring in the ingredients. Check more buying as some may find the shrimp paste or fish sauce to be strong.
Red Bell Pepper: I think this pairs perfectly with Thai Red Chicken Curry. You can use any colour of bell pepper or even broccoli, mushrooms,
zucchini or green beans.
Soy Sauce and Fish Sauce: A little bit of these sauces is added for the umami taste.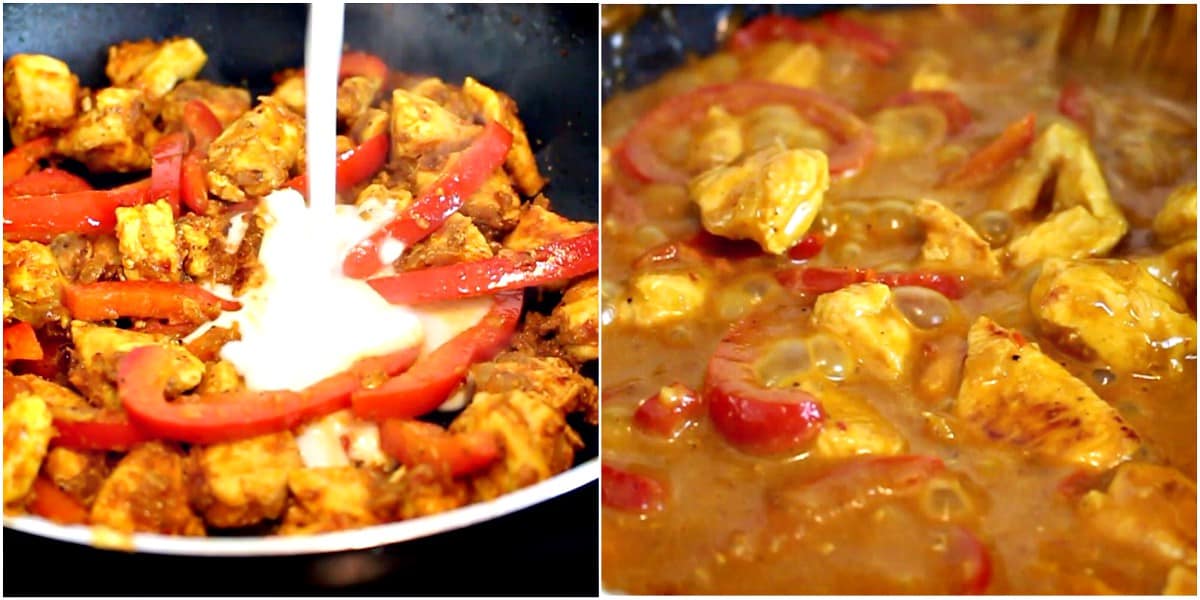 Ingredients  
500 g boneless chicken breast cut into bite-sized cubes
2-3 tablespoon coconut oil
1 small onion diced
1 teaspoon garlic freshly minced
1 teaspoon ginger freshly grated
2-4 tablespoon red curry paste see note
salt to taste
1 teaspoon black pepper freshly cracked
1 red bell pepper
400 ml coconut milk
½ cup (125ml) chicken broth
1 tablespoon fish sauce
1 tablespoon soy sauce
1 teaspoon brown sugar
1 teaspoon paprika powder
2 tablespoon lime juice
FOR GARNISH
Lime wedges
Fresh coriander leaves
Sliced red chili
Instructions
Heat coconut oil and saute onions on medium heat till translucent.
Then add chickenalong with ginger and garlic. Sear on high heat till it changes colour.
Stir in the red curry paste, salt and black pepper.
Then add the bell pepper and stir fry on high heat for only a minute. Do not cook more than that as we will be cooking the bell pepper further in the sauce.
Pour the coconut milk and chicken broth along with fish sauce, soy sauce, paprika powder, and brown sugar. Mix and wait until a boil comes.
Lower the heat and simmer for around 10 mins or until the curry thickens to your desired consistency.
Add the lime juice, stir and remove from heat.
Garnish with fresh coriander, lime wedges, sliced red chili and serve with a side of boiled jasmine (or even basmati) rice.