Ingredients  
200 g noodles
200 g boneless chicken sliced
⅓ teaspoon salt divided
½ teaspoon white pepper
1 teaspoon regular soy sauce
1 teaspoon cornflour cornstarch
1 garlic clove crushed
1 small green bell pepper sliced
2 carrots sliced
½ cup cabbage sliced
1 red onion sliced – optional
3 spring onion green part only, sliced
1-2 green chilies deseeded & sliced
4 tablespoon oil divided
CHOW MEIN SAUCE
2 tablespoon regular soya sauce
1 tablespoon white vinegar
1 tablespoon sriracha/chili sauce
1 tablespoon oyster sauce
1 tablespoon chili garlic sauce
¼ chicken cube
½ teaspoon grounded black pepper
½ teaspoon red chili flakes
½ teaspoon brown sugar
1 teaspoon toasted sesame oil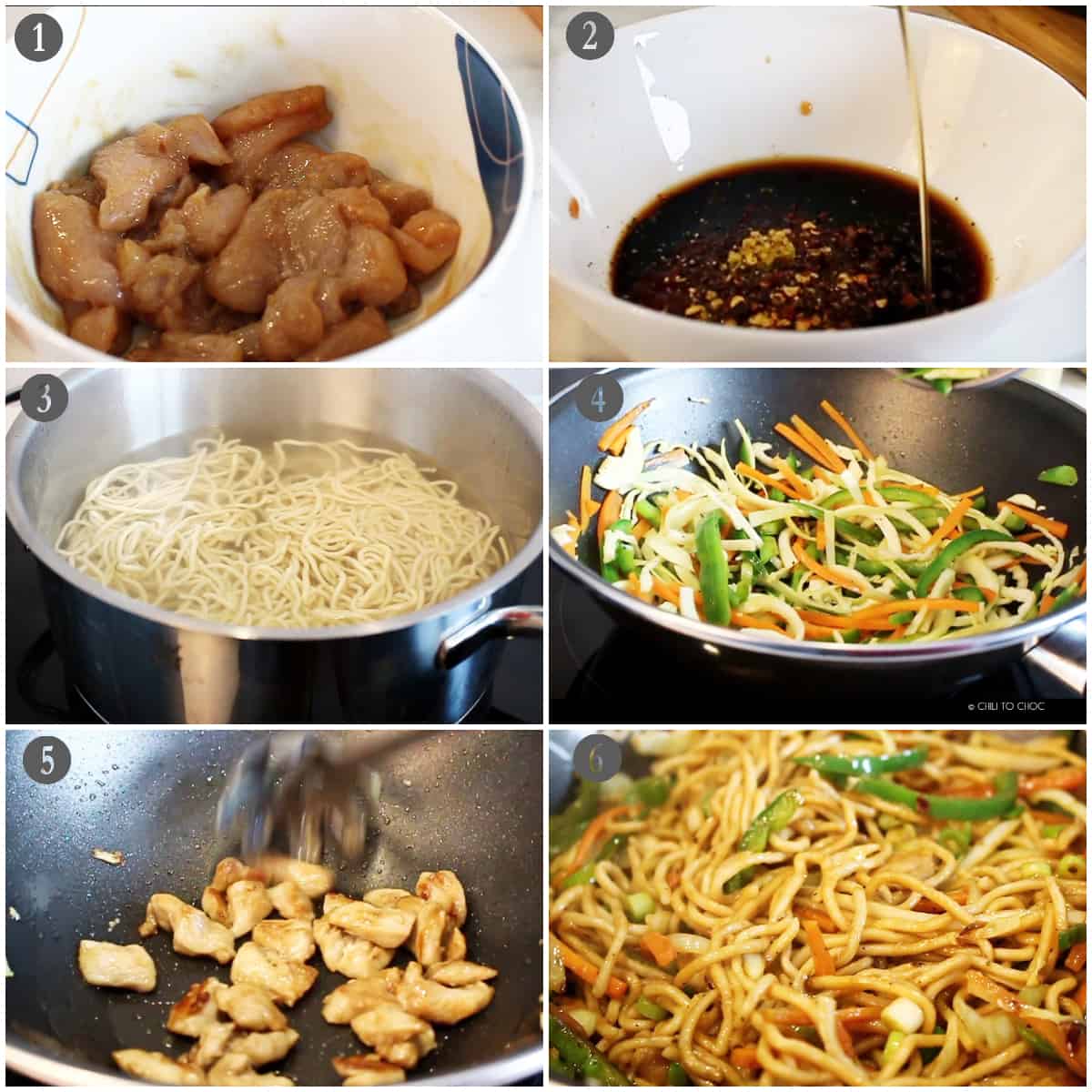 Marinate the chicken. Add the seasonings to the chicken and keep aside for 10-15 minutes.
Prepare the sauce. Mix the Chow Mein sauce ingredients (see recipe card below) together.
Boil the noodles according to package instructions. Make sure you do not overcook them.
Stir fry the veggies on high heat for 2-3 minutes.
Cook the chicken and add the crushed garlic.
Combine everything. Add the noodles to the chicken, then the sauce and vegetables. In the end toss in the spring onions and turn off heat.
Instructions
Marinate the chicken with ½ teaspoon white pepper, ⅓ teaspoon salt, 1 teaspoon cornflour (cornstarch) and 1 teaspoon soy sauce. Keep aside.
Prepare the Chow Mein sauce and put aside.
Boil the noodles according to package instructions. Make sure not to over boil or they will get mushy while stir frying. Keep ¼ cup of the water the noodles are boiling in aside.
When the noodles are done, strain them in a colander and run cold tap water through them. Drizzle 1 tablespoon of toasted sesame oil and keep aside.
In a pan heat a tablespoon of oil. Add the carrot, bell pepper, cabbage and red onion. Sprinkle a dash of salt and black pepper. Stir fry for 3-4 mins only. Do not over cook the veggies. In the end mix the green chili and keep the veggies aside.
In the same pan add 2 tablespoon oil. Saute the crushed garlic and then add the marinated chicken. Fry on medium high heat until cooked then pour in the sauce.
Add the boiled noodles. Immediately add to the pan and toss well. Taste for salt at this point and add some if needed. Add the spring onions and mix.
Take out on a serving plate, sprinkle some sesame seeds and serve.